WOKC & Student Council Wipe Out Kids Cancer Fund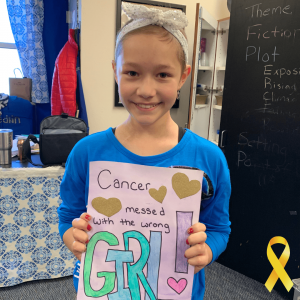 HP Student Council is inviting all of Highland Park High School to join in an area-wide competition with other local high schools to help raise money for Wipe Out Kids Cancer.
Wipe Out Kids Cancer is a 43-year-old organization that provides assistance for every pediatric cancer patient in the DFW Metroplex. When kids are diagnosed with cancer, there is no time to plan and they are immediately sent to the hospital. Money raised goes towards making "buddy bags." The bag is strategically filled with hygienic, comfort, and entertainment items designed to ease the transition from home to hospital. Money raised also goes to the Warrior Family Program, which provides free, fun events for the entire family throughout the year. These families enjoy amusement venues, sporting events, holiday parties, and other social engagement activities... "medicine for the soul" is how one parent described the program.
The Golden Ticket program is another option that allows pediatric cancer patients and their siblings to come and select an item from the shelves of the Celebration Closet.  Wipe Out Kids' Cancer focuses on funding novel pediatric cancer innovations that represent
advancements in treatment outcomes, which includes:
Earlier detection
Prevention of harmful side effects
Greater diagnostic accuracy
Less invasive treatments
You may find out more about WOKC at WOKC.org